Aloha from the sunny state of Nevada! Yes, we're here and got our first taste of the Sin City! Getting here was fun.

In our last report, we got stuck in the great town of Goodland, KS. *sniff* I will really miss that place. They staff was so nice and friendly. They even took my picture in the lodge:


In the morning, we checked the road and weather reports and heard that they decided to open up I-70 going east since the storm decided to put its feet up in Colorado, thus effectively, shutting down the entire state which also included our trek through Nevada and Utah. So, we decided to head back and hour through Kansas to Highway 80 which cut right through Kansas top to bottom, part of Oklahoma, and the Texas panhandle to get to New Mexico. A lot of the time we were the only car on the road. We stopped at and let Lola represent her hood to a bunch of buffaloes literally chillin' in the fields:
Snow drifts were abundant and so was ice. But it was cool watching it all diminish and the sun come out to greet us the further south we headed. Along the way, Jilly V took some cool artistic pictures of trees: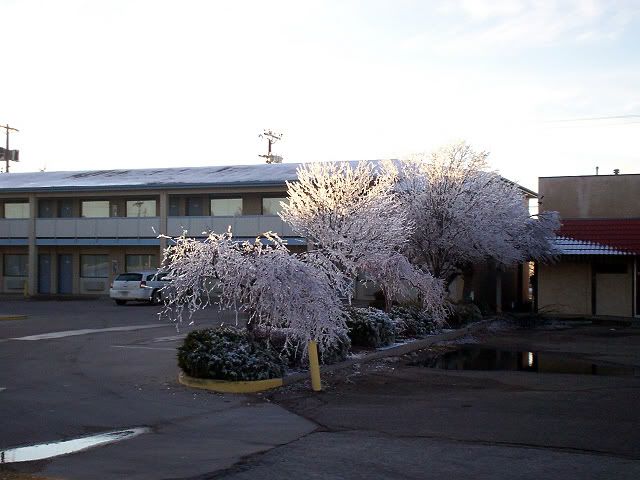 In New Mexico, the M.N.F.N Po pulled a sista over and gave her a ticket for 9 miles over the speed limit when trying to pass a slow az truck!
I hate it when people just do their jobs sometimes...unlike me I suppose
We got to Albuquerque and finally put up for the night. As tempting as karaoke was to do in the lobby with only like 6 people there, we decided to hit the sack after driving around for an hour looking for a dang Taco Bell. We let the universe guide our driving. I bet Stevie Wonder would've found the TB before us!
We then headed to AZ to Flagstaff. Not much really happened other than the gorgeous scenery. I really like mountains because they are so inspiring. The represent one's will to overcome in any situation. It was a good juxtaposition for some news I got in the morning. I found out one of my close family members is really sick. The news in itself wasn't all too surprising, but it just sucks because the current situation was really preventable with a little foresight.
It made me think of myself and my own mortality as well. I haven't really been taking care of myself lately and have been eating lots of crappy foods due to the choices I'm making on the road which don't offer the best things to eat. I will be getting healthier as the time goes on. Now that we're stationary, that should be a bit easier. We got though to Flagstaff, searched for another TB and then I got to drive.
From Flagstaff on, not much really happened. I checked up on a couple of folks in medical situations along the way (
both are fine
), and listened to the new Incubus record, the Metallica Load album (
which to me is still their most ambitious album to date. To all of you ole skool Metallica heads, 1982 is over
), and lots of songs on shuffle. We made it over to the Hoover Dam and checked it out at night for a few minutes. We then hopped back into the car and got to Vegas. We went riding down the strip and shot some footage which I'll be working on in a few days.
While in Vegas, we plan to check out a lot of the free stuff and some shows. Not sure exactly what but the next report should be a doosie! I wonder if
Thunder From Down Under
is having auditions...
Currently listening :
Light Grenades
By Incubus
Release date: By 28 November, 2006