Thanks to an incessant snow storm, I'm stuck in Goodland, KS for another night
. Apparently the handling of snow in a town/state being so close to the Rockies isn't paramount. All major interstates are closed so we can't go anywhere just yet. I do appreciated the fact that the town felt that the money used to buy a giant sized Picasso painting would be way more useful than dumping it into snow plows!


The weather also turned my vehicle into into a gas-guzzlin' MoMosicle:
The local life here is killer! They have a Wendys, Taco Johns, Pizza Hut, Subway...Wal-Mart was totally rad. We walked around and marveled at the fact that everything was actually stocked, neat, and orderly and there was hardly anybody there! Here's a snap of me walking around looking for shoppers from a
security camera
: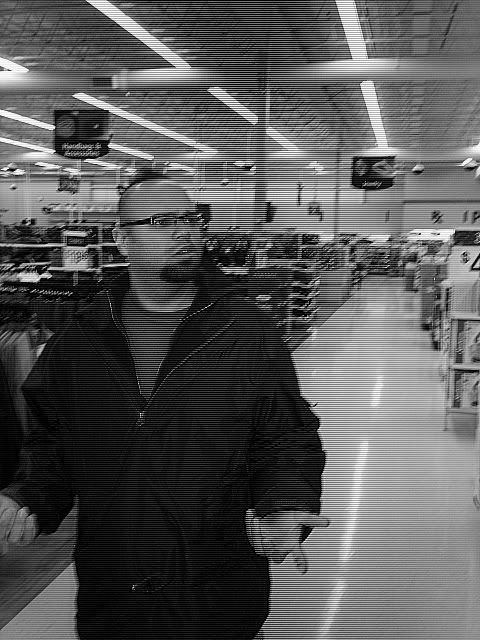 So, we're holding up well. I did some Christmas shopping at WallyWorld. I've watched a lot of MTV reality TV so now I'm up-to-date with The Real World, Rob&Big, and the Twenty-Four Seven...*
sigh
* Oh Gawd...
GET ME OUT OF HERE!
Hopefully tomorrow we can get back on the road. The roads are gonna suck to go into Colorado so we're looking at maybe back-tracking to another major highway in Kansas and heading souf to warmer places to maybe later truck over to Baygahz.
Note: This was originally posted on MySpace with comments at:
http://blog.myspace.com/index.cfm?fuseaction=blog.view&FriendID=16074757&blogMonth=12&blogDay=21&blogYear=2006